Time Rift is a mode that opens every other Monday at 10:00 UTC and stays active for a week.
An active Time Rift is followed by a cooldown that lasts a week as well.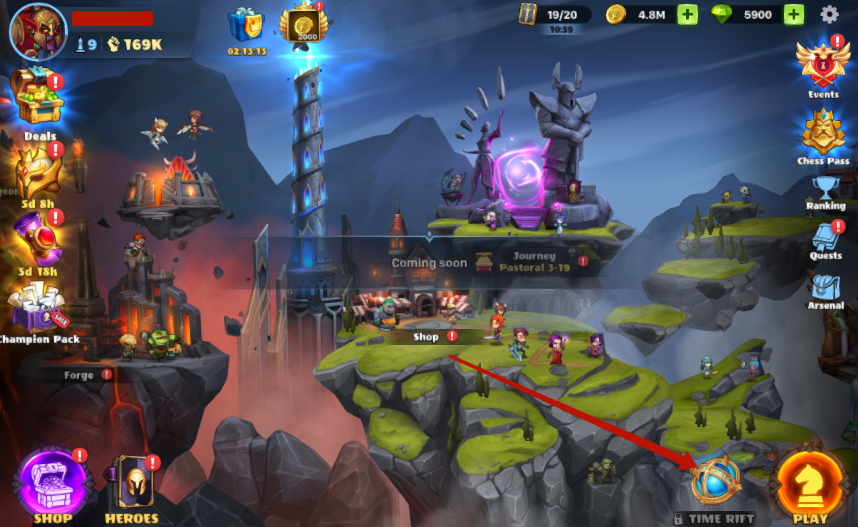 Gameplay
Time Rift consists of 3 floors. In order to progress, you need to go through cells on each floor, defeat Bosses and complete various Quests. Every defeated Boss and completed Quest grants you with useful resources.
You can click through the entire Floor to plan and strategize, and see what rewards you can get.
The main reward for the completion of the Time Rift is a Magic Item which adds an active or a passive ability to a Hero.
Resources
The main resource you need to progress in the Time Rift is Memory Shards.
You can always check how many Memory Shards you have left in the top right corner of the Time Rift screen: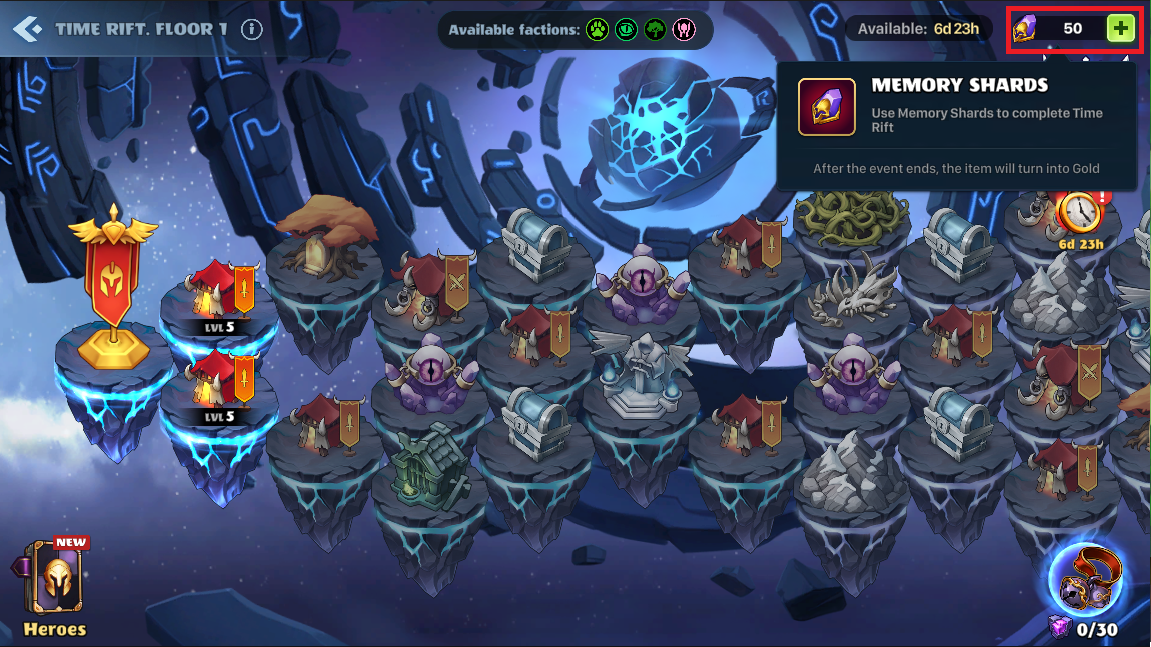 Memory Shards are used to open new levels.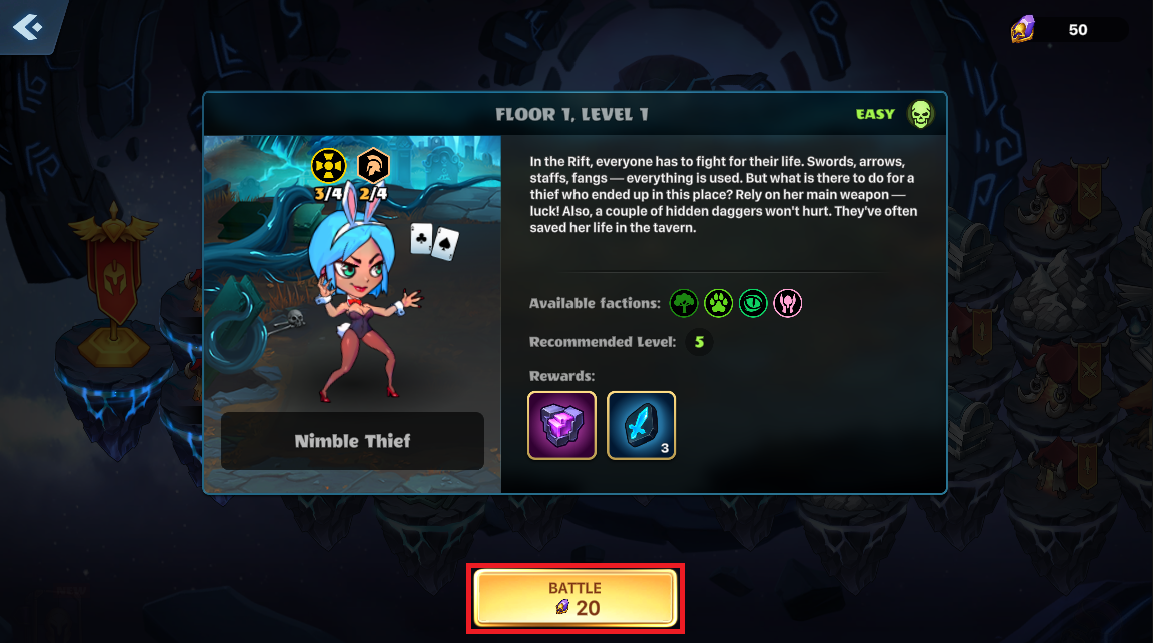 Cells with Quests can be completed without spending Memory Shards. Instead, Quests grant you with this resource for their completion.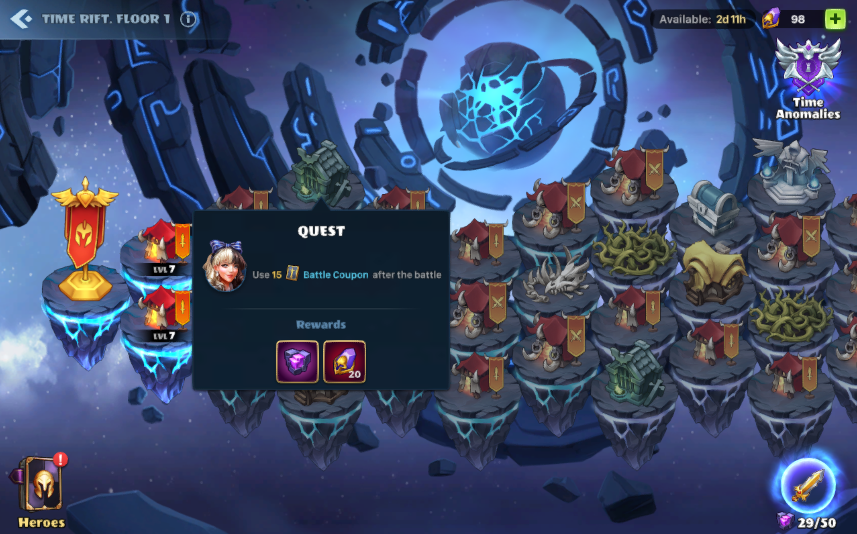 Aside from Memory Shards and other resources, defeating Bosses and completing Quests award you with Enchanted Ore. You need to collect Enchanted Ore to be able to possess a Magic Item.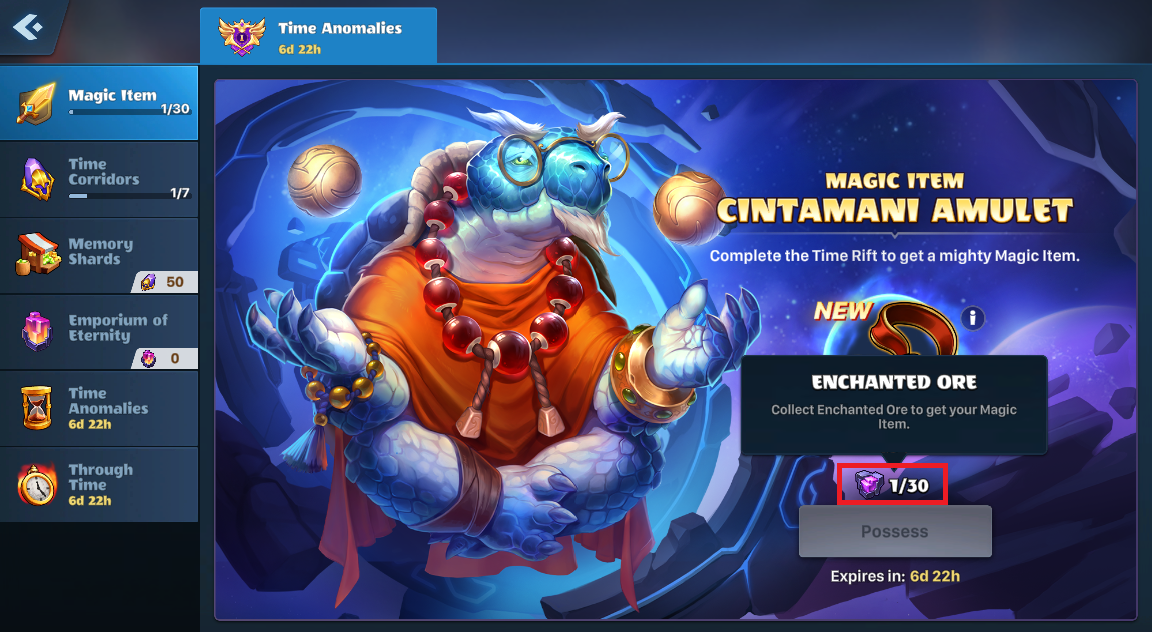 As you progress, you also receive an additional resource called Runes.
Runes are used to improve Magic Items.
All Magic Items that are already available for you can be found in the Heroes tab on the main screen.
You can see a list of Heroes for which you have already received Magic Items, by enabling Magic Items filter on top of the window: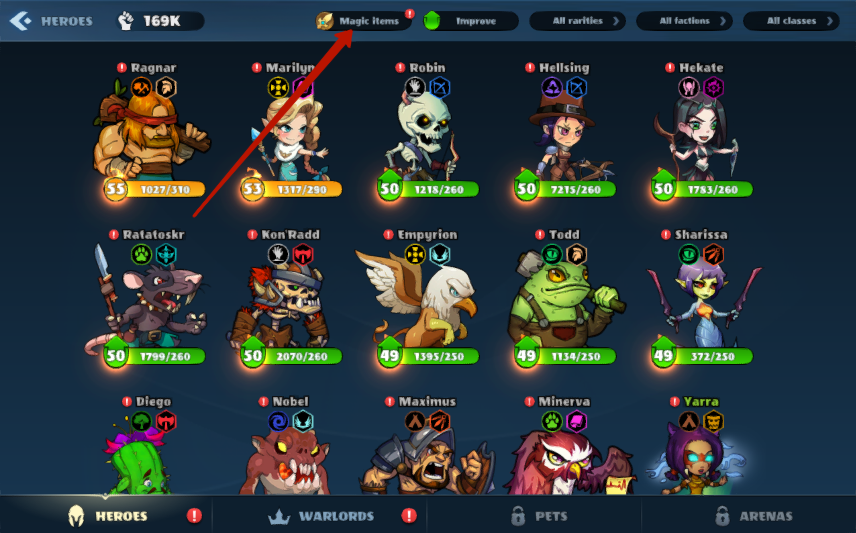 Then, by opening the Hero Window, you will be able to upgrade their Magic Item using Runes: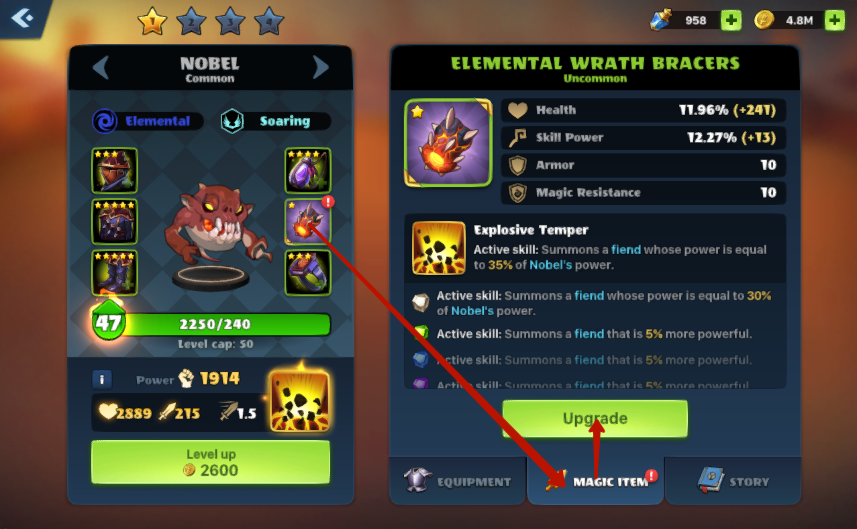 Time Anomalies
Time Rift also has its own shop called Time Anomalies:
In the first tab, you can check the progress of collected Enchanted Ore and learn skills and stats of the Magic Item: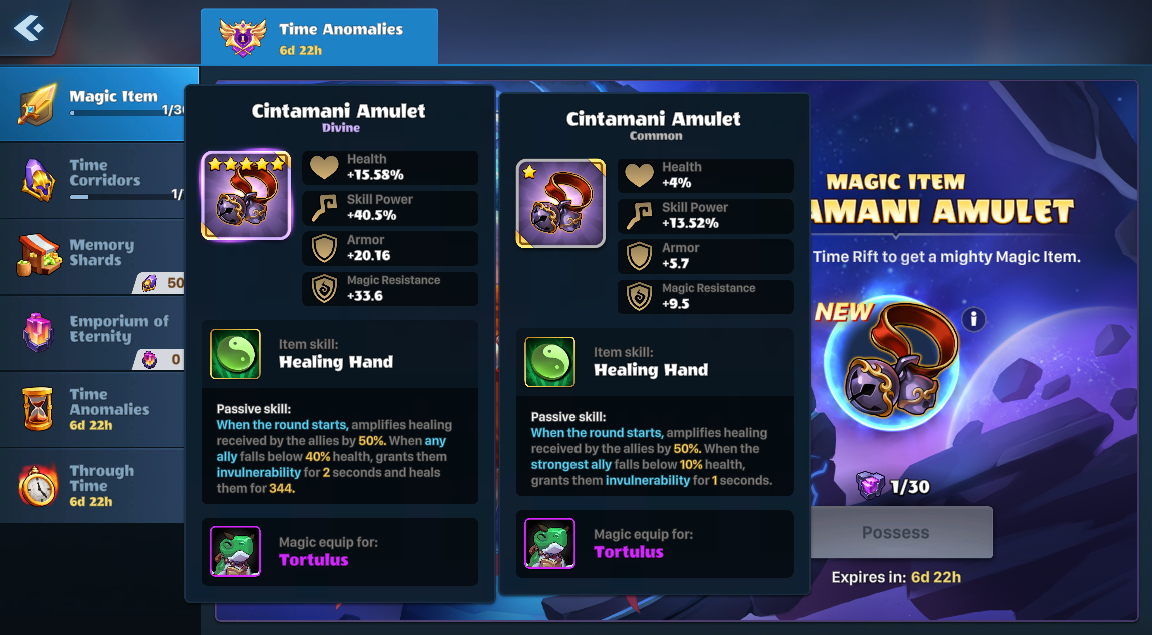 In the second tab, you can get Memory Shards for playing every day. If you miss a day, Shards can be bought for Gems.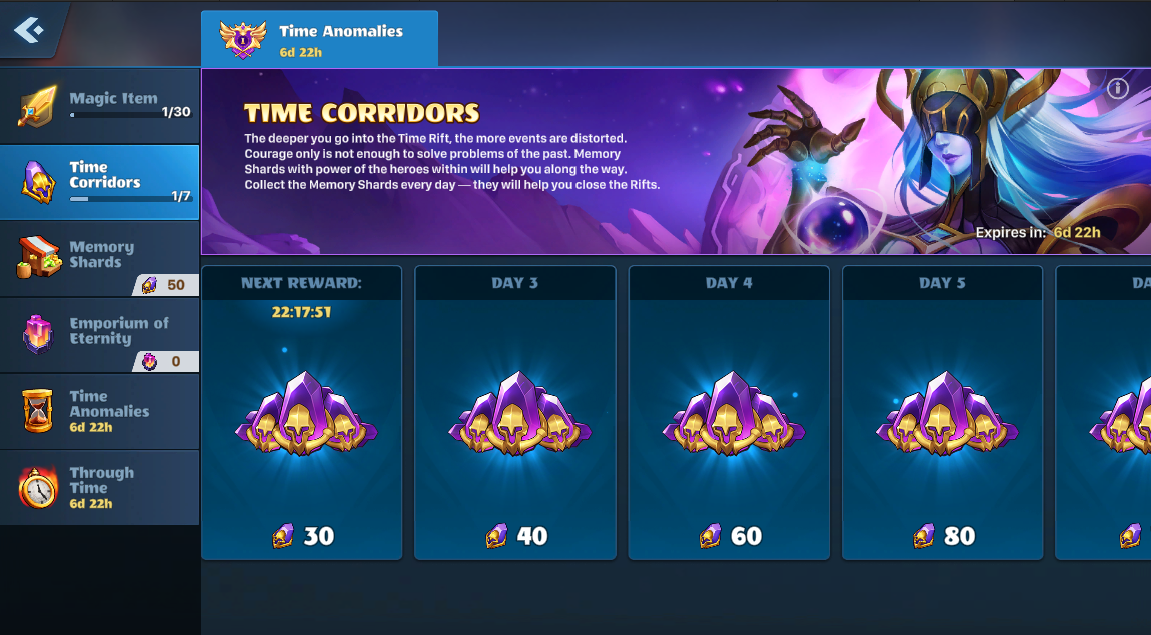 In the third tab, you can buy Memory Shards for Gems or purchase additional Runes, Ancient Scrolls or Arcane Ore.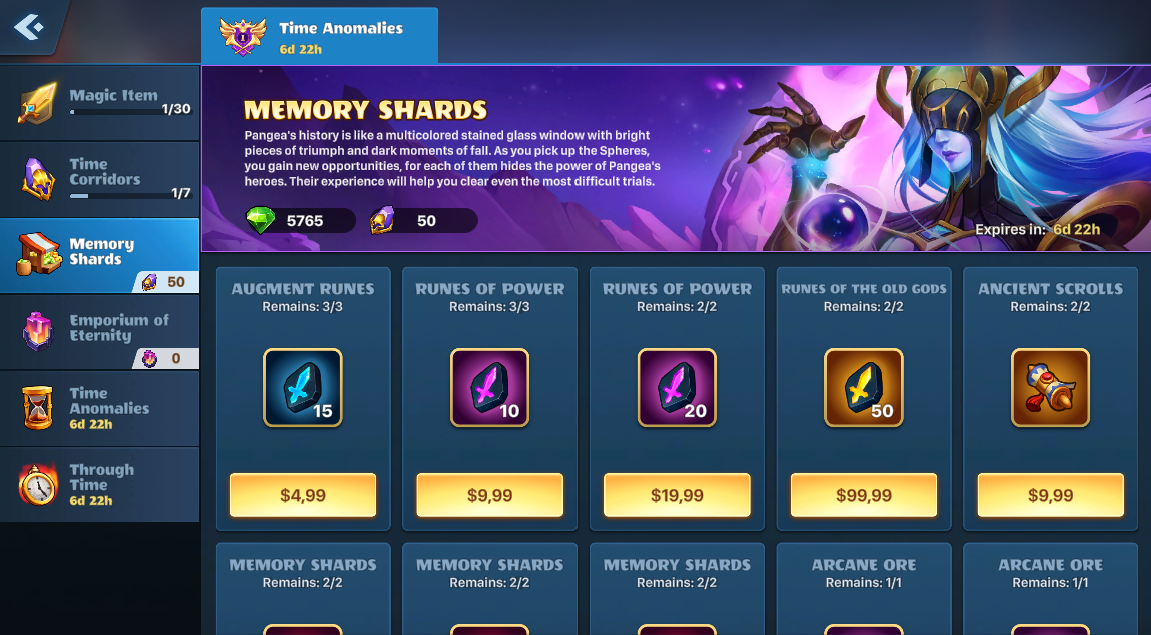 In the Emporium of Eternity tab you can find Magic Items from the past Time Rifts, Runes and Ancient Scrolls. You need to collect Arcane Ore by going through the third floor of the Rift to be able to purchase these items.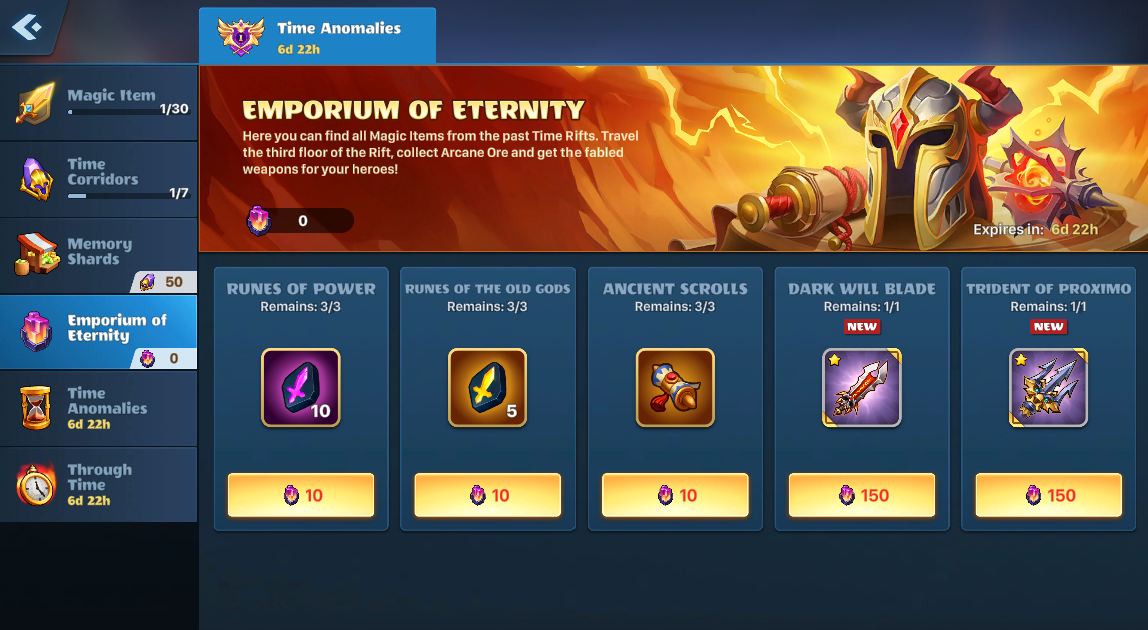 The other two tabs contain special offers that will help you to progress through Time Rift and the game :)